Calderdale history timeline 1700 - 1800AD : Section 3
Section 1 | Section 2 | Section 3 | Section 4
The Piece Hall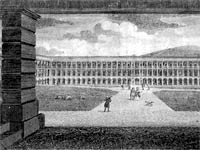 The Piece Hall was opened on January 1st. 1779 at a cost of almost £10,000. The majority of the money was raised by subscription of local clothiers. The market contained 315 rooms, each twelve foot by eight foot with a single door and window, there was also an open court where clothiers with only a few pieces to sell could rent a stall at a penny a piece. The weekly market continued to be held on Saturdays with transactions conducted within strictly determined hours and rules regulated by the Trustees.
Corridors on the inside of the building with rooms behind allowed good light for the viewing of cloth. The shop provided security for stock left on the premises and also seclusion and confidentiality between clothier and merchant, in these rooms deals were struck quietly in a business like manner.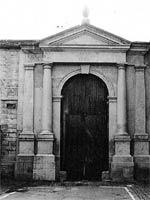 The Piece Hall was open from 8am to 9:45am for the delivery of cloth and for clothiers to open their rooms. Trading began at 10 o'clock and ended promptly at 12 noon. To make sure that every clothier had an equal chance any merchant who entered the market place before 10 o'clock or persisted in negotiations after noon was fined. Time, from 12.30 to 4pm, was allowed for the removal of cloth sold after which the market was closed and remained empty until the next market day.
The Piece Hall became a crucial institution, an important open market whose function was valued by both clothiers and merchants. It became the trading centre for a wide region, trade directories of the 1780s list not only clothiers attending the market from Calderdale townships but also men from Burnley, Colne, Pendle, Skipton, Keighley and Bradford.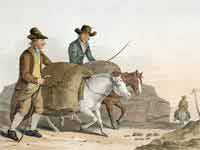 The weekly market was ideally suited to the needs of small scale woollen clothiers with limited capital. They had the opportunity to sell direct to merchants or factors for prompt payment as "cash on the nail" or at short credit with settlement in 14 days. Clothiers had a quick return on their investment in wool and labour, regular sales helped keep overheads low and encouraged continued production.
The Piece Hall gave merchants regular and easy access to the output of collective domestic mass production, volume sales of cloth at the market stimulated the rapid circulation of capital and contributed to the economic vitality of the area.
Until the early 1800s the Piece Hall was the major Yorkshire market for both woollen and worsted cloth. Although it is debatable whether the commercial arrangements allowed the most rational methods of exchange, economic inefficiencies were much less important than the cultural and social values they expressed.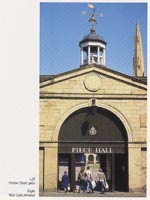 The Trustees continued a tradition of self government acquired from the experience of township administration, rules organising market activities reflected the social attitudes and assumed status of clothiers as autonomous, independent producers.
The Piece Hall was a manufacturers hall. Conscious of their rights and liberties the regulations enforced by the Trustees expressed the customs, order and "morality" of the domestic system, that each clothier had equal opportunity to vent his cloth, that there would be no forestalling or regrating and that the role of the merchant would be restricted to purchasing.
The Piece Hall in Halifax is the only intact surviving example of a north country cloth market. It is one of Britain's outstanding Georgian buildings and is the most noteworthy architectural monuments in the town.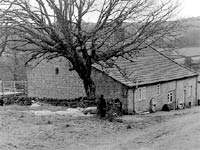 The diary of Cornelius Ashworth of Waltroyd provides an insight to the lives of people practicing the dual economy and carrying their pieces to market.
By the time the Piece Hall was built changes had begun to occur which would permanently alter the long established organisation of local cloth making, changing it from a trade controlled by many independent clothiers into an industry dominated by a small number of merchant-manufacturers.
Traditionally merchants and clothiers undertook separate and clearly defined occupations within the Yorkshire cloth trade.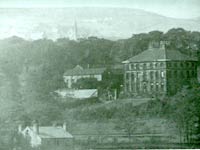 Merchants were men of means and education. Usually resident in a fine house in Leeds or Wakefield, their wealth and social status placed them closer to the landed gentry than even the richest clothier might aspire. Their apprenticeship, often spent abroad learning languages and foreign business practices, was both strict and expensive. Once in partnership merchants had no intention of making cloth. They concentrated on buying and finishing cloth, exporting it and the arranging of commercial finance.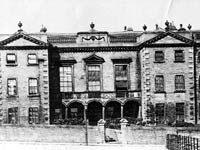 Despite the clear social division that existed in the arrangement of trade, which even the wealthiest yeoman clothiers found difficult to overcome and emphasised their position as producers not traders, the emergence of large scale producers who developed their business by adopting the role of merchant and transforming themselves into merchant - manufacturers took place in Calderdale at an earlier date than in any other Yorkshire textile district.
"...'tis almost impossible to have one piece equally good from end to end and much more to have a number of equal quality." D'arcy Molyneaux, Leeds Merchant
Yorkshire merchants exporting cloth found that they faced strong competition in foreign markets from quality rather than price. To overcome this problem they attempted to secure uniformity of pieces by insisting on consistent batch production.
Merchants understood that in making up their consignments from cloth bought in small numbers from many different clothiers they were likely to find crucial variations from piece to piece.
Good trading conditions in the early 1700s confirmed merchants natural preference to conduct their business with clothiers who could make up and supply large orders of cloth and guarantee a customers demand for batch quality. In 1706, for example, William Milner, the largest Leeds merchant at that time. Regularly purchased 200 or more kersey pieces from William Sutcliffe, clothier of Halifax.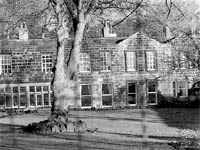 The tendency of merchants to order directly from the largest clothiers had important, if unforeseen and unintended, consequences which encouraged a merging of functions and the eventual emergence of merchant-manufacturers.
Advance ordering for many pieces, to increasingly rigorous standards of quality, not only placed the advantage with those clothiers who could supply large demands but also initiated changes to the traditional and accepted methods of trade.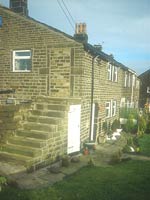 Purchasing direct from a clothiers warehouse was not uncommon. Leeds merchants and factors often made up large consignments by obtaining almost as much kersey by direct order as they bought on the open market.
Many small scale domestic clothiers regarded this practice as a flagrant infringement of the established rules of the trade. Not only were the larger clothiers "privileged with the best orders" but were by-passing the Piece Hall where all clothiers had an equal chance to attract sales.
Making direct to the orders of a merchant removed the need for large producers to attend the weekly cloth market. This reinforced a trend that would distance the larger clothiers from the modest production levels of domestic clothiers. Expanding production by dealing with as many merchants whose demands they could satisfy as regular customers, enabled the larger producers to develop their enterprise and emerge as dominant local manufacturers.
Unlike the domestic clothier, who was reliant on the stapler for supplies of wool and the factor for sale in the open market and therefore had little choice but to make standard kerseys, manufacturers were wealthy enough to purchase wool direct from the grower. This not only ensured batch quality but also allowed manufacturers the ability to diversify into the making of other types of cloth.
Having the capability to make large amounts of cloth in closed market conditions demanded discretion in transaction. To guarantee security merchants resorted to sending manufacturers samples of cloth their overseas clients wanted to be made by sealed letter.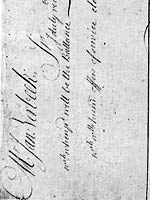 "To Mr Ely Batterill Near Halifax 17.febry.1737/8
Sir, I duly received yours of the 7th perfectly open without any Seal at all. I admire how you can fancy to expose both your own Business and mine ...You may just do as you please in respect of your own concerns, but I'll asure you shall not expose mine much more than you have done..."
Letter Book of Samuel Hill of Soyland.
It is little wonder that Samuel Hill expressed anger at receiving an open, unsealed letter. In contrast to the domestic clothier making standard kerseys, a manufacturer producing bespoke cloth operated in an increasingly competitive environment. Confidentiality was essential, if other manufacturers got to know what kind of cloth was destined for a particular market they could attempt to undercut their rivals by volume or in price and quality.