Calderdale history timeline 1600 - 1650AD
"Yorkshire Deceits"
"Inour own countrie the falsehood of clothing is so common that if a gentleman make a liverie for his man, in the first showre of raine it may fit his Page for Bignesse". The True Estate of Clothing in the Realm, J May, 1613
Some clothiers were accused of deception or "cunning workmanship", using cheap and inferior materials in order to increase their profits. There may have been some truth in this. It was not unknown for weavers to make use of waste threads known as "thrums" or "flocks" of poor wool during weaving and treat the cloth with "medicines and oyntmentes" to improve its appearance. These dishonest economies were gradually abandoned during the 1630s as kersey makers used better qualities of wool.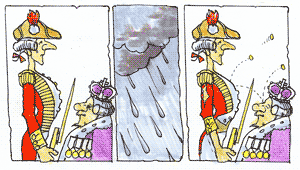 Other cloth manufacturers wishing to bring kerseys into disrepute put about a tale, sometime regarded as authentic fact.
A regiment was issued with brand new uniforms of Yorkshire kersey before being reviewed by their king. As the regiment lined up a previously clear morning turned overcast and brightened again after a sharp shower.
Much to the confusion of the troops and anger of the king, cuffs shot from wrist to elbow and britches tightened to bursting point as the cloth shrank with immediate effect.
"An Governable Parish"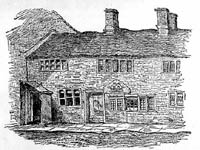 "...out of zeal to gods holy religion, do freely and voluntarily at their own charges, maintain and give wages to ten preachers, over and above the payment of tithes and obligations. And by special grace of god there is not one Popish Recusant inhabiting the great and populous parish of Halifax, all of which benefits do arise and grow from the trade in making Northern Kerseys..."
Ideas and philosophies spread as cloth changed hands. Long distance trade through Hull and London to the continent introduced Calderdale people to protestant and puritan thinking.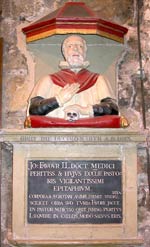 Under the influence of Dr. Favour and his successors, Robert Clay (1624 to 1628), Hugh Ramsden (1628 to 1629) and Henry Ramsden (1629 to 1638) Puritanism became popular in Calderdale.
For many who lived in the scattered valley communities religious independence was an expression of a life characterised by hard work, thrift and neighbourly self help.
"The World Turned Upside Down"
In the West Riding of Yorkshire months of tension preceded the outbreak of Civil War in August 1642.
As King Charles and his supporters marched north to York Sir John Hotham, Governor General of Kingston upon Hull, denied the King's army entry to the city on the 23 of April.

Putting the city under marshal law Hotham forbade any ship to leave the port. The July convoy to Hamburg did not sail, merchants stopped trading and local cloth markets closed.
The West Yorkshire textile towns being "populous and rich, depending wholly upon clothiers, naturally maligned the gentry" and gave widespread support to the Parliamentary cause.
After the battle of Adwalton on the 30 June 1643, and the subsequent Royalist capture of Leeds and Bradford, defeated Parliamentarian soldiers abandoned Halifax and retreated into Lancashire.
Royalist troops commanded by Major General Sir Francis Mackworth occupied Halifax; they were to stay in possession of the town and surrounding country until 28 January 1644.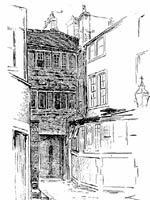 "3rd July 1643, Being Monday, 1 clok morn, Bradford taken and I into Lancashire" Diary of John Brearcliffe, Apothecary, Halifax.
People with Parliamentary or Puritan sympathies fled before Royalist troops moved into Calderdale. John Brearcliffe crossed the county border to Bury where he met, fell in love and married Dorothy Meadowcroft. Others were less fortunate. Thomas and Phoebe Lister hid the deeds to Shibden Hall and escaped to Manchester where Phoebe took sick and died. Ann Tattersall of Warley is buried with other Yorkshire refugees in Burnley Parish churchyard, Lancashire.
Those who supported Parliament and did not escape had to cope with disruption and distress.
Despite his house at Goodgreave, Soyland near Halifax, being ransacked and plundered, his father dying a prisoner of the Royalists and his brother Samuel killed fighting in the Parliamentarian army, Thomas Priestly somehow managed to carry on his business.
During the war Thomas Priestley of Goodgreave, regularly took packhorses carrying Kersey cloth to his brother John in London. See image opposite of Packhorse causeway. John Priestley bought wool in Kent for the return load to Yorkshire, and also arranged for the sale of the cloth through a factor in Blackwell Hall.
After the defeat of the Royalists and the execution of Charles I on 30 January 1649, Parliament governed without a king. The importance of Halifax, along with Leeds and Manchester, was recognised and the support they had given to the Parliamentary cause rewarded by allowing a Member of Parliament to represent each town. On 12 July 1654 Jeremy Bentley of Elland was elected MP for Halifax. The political privilege did not last. Members for these northern textile towns were removed from the House of Commons after the restoration of Charles II in 1660.