Calderdale history timeline 1850 - 1900AD
Reform and Development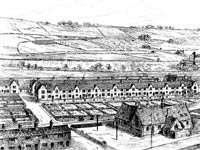 The traumatic urban-industrial experience eventually set in motion a movement of social reform. In which, Luddites and Chartists, friendly societies and co-operative groups, trade unions and reformers, industrial paternalism and the new municipal authorities helped remove the worst excesses of unfettered industrialism. Model villages and co-operative 'club' houses emerged alongside some of the more squalid mill terraces and overcrowded cellar dwellings. The emerging civic pride came to be expressed in an increasing range of public buildings and amenities.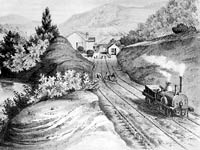 Parliamentary enclosure represented a final phase of moorland reclamation for food production for the expanding population. Leaving its mark in the high-lying laithe-house hill farms, which usually combined under one roof a house, barn and mistal. While huge reservoirs were constructed to quench the thirst and improve the sanitation of the new industrial communities. The transport revolution that had been initiated by canal and turnpike was completed during the 1840s. This was along with the opening of the first railway line through Calderdale.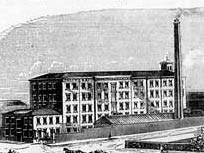 In Halifax, the second half on the 19th century was marked by exceptional growth. Urban development taking the form of continuous westward and northward expansion. This eventually engulfed the nearby settlements of King Cross, Mount Pellon and Haley Hill. Much of this later development was due to textile mills being built over the higher ground to the west. This was rather than their continued concentration in the Hebble Valley, following the provision of mains water and drainage.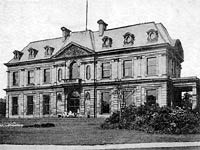 Alongside this industrial development, there was a great deal of other building development. This included: schools and mechanics institutes, hospitals, almshouses and a union workhouse, parks, public baths, cemeteries and gas works. There was also the public library (see opposite) and museum. This gradually took shape in the town and in the satellite communities to which it was increasingly linked. Transport communications were improved by rail (from 1844), horse omnibus (from the 1850s) and tram (from 1898). All this served as agencies of both social control and social construction. This reflected the dynamic interplay of forces that ensured a healthier, more hierarchically regulated environment. This was needed for the expanding urban workforce.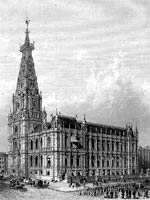 The Town Hall (1863) and Borough market (1896), formed a radical two-phase redevelopment of Halifax. This provided a vivid expression of the corporate identity of the municipal authority. At the same time, new industrial entrepreneurs boldly proclaimed their wealth and status. They built large Victorian 'country' mansions (Belle Vue, 1857 and Bankfield, 1867) and ornate gothic churches (Square Church, 1857, and All Souls', 1859). Those who helped to shape the cultural and spiritual values of Victorian society.