Calderdale history timeline 1700 - 1800AD : Section 1
Section 1 | Section 2 | Section 3 | Section 4
Ascendancy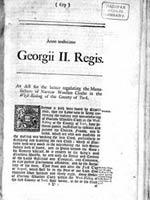 From the 1670s until the 1770s the woollen textile industries of the West Riding grew at a dramatic pace. Textiles made in the northern woollen towns were in great demand, "utilized everywhere for clothing ordinary people who could not go to the price of fine cloths made in the West of England or in East Anglia". See act for the regulation of narrow cloth production opposite.
This extraordinary expansion of output propelled the region into a position of commercial pre-eminence.
By developing a manufacturing potential beyond the capability of either the West of England and East Anglia, Yorkshire became the heartland for the production of woollen cloth of all types.
Increased productivity was made possible by a series of changes in the organisation of traditional production processes, changes which not only transformed the domestic nature of the industry but would also lead to its eventual collapse and replacement by the factory system.
This rapid economic and cultural change came earlier to the Calderdale area than other surrounding textile districts.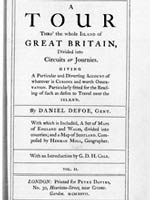 "...and so nearer we came to Halifax we found the houses thicker and the villages greater...if we knocked at the door of any of the master manufacturers we presently saw a house full of lusty fellows, some at the dye vat, some dressing the cloth, some in the loom." Daniel Defoe 1724
"These people are full of business, not a beggar not an idle person to be seen. This business is the clothing trade." Daniel Defoe 1724
The traditional local structure of cloth making encouraged the development of a distinctive mixture of communities and customs which created a regional character unique in English textile producing areas. See weaver's cottages below.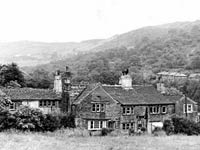 Large scale production of Calderdale's speciality, Kersey, was essentially a rural industry controlled by independent clothiers who organised the manufacture of woollen cloth in their own workshops and surrounding cottages.
Within Halifax parish the term "clothier" was applied to all who made cloth for sale at the local market.
Whether they made a single or several pieces a week Calderdale clothiers were a broadly egalitarian and relatively undifferentiated spectrum of local society dominated by the "middling" sort.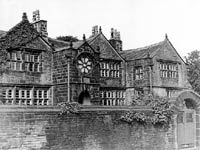 Regardless of output all clothiers assumed a pivotal role, occupying a position between journeyman and merchant.
Although many employed others and enjoyed the status of producers, clothiers often laboured alongside their artisans and were regarded as fellow workers.
For most of the eighteenth century work customs reinforced shared social values.
Where economic demarcation existed these divisions were mutually acceptable and unlikely to become a source of enmity.
"If they were so populous...how much must they be increased since? The trades having been prodigiously encouraged and increased by the great demand for their Kersey's for clothing the armies abroad, insomuch that it is the opinion of some that know the town, and its bounds very well, that the number of people in the vicarage of Halifax is increased one fourth, at least, within the last forty years..." Daniel Defoe A Tour Through The Whole Island of Great Britain 1724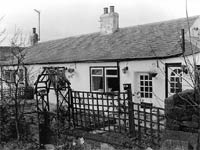 The rapid increase in the production of woollen cloth during the eighteenth century was maintained by a growing population.
Parish registers tell us that a large number of skilled workers relied for their livelihood on employment in the textile trades making pieces for clothiers.
"Among the manufacturers houses are likewise scattered an infinite number of cottages where dwell the workmen which are employed.
The women and children of which are always busy carding and spinning, so that no hands being unemployed all can gain their bread, even the youngest to the most ancient. Hardly anything above four years old but its hands are sufficient to itself." Daniel Defoe 1724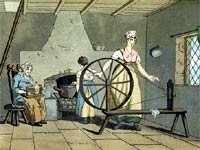 Most weavers and artisans regarded taking in work put out by clothiers as an opportunity to enjoy regular employment with relatively high wages. Kersey making influenced values and customs.
A mutually accepted work culture reinforced an attitude that working for a wage did not induce a sense of dependence upon others.
Within the domestic system the notion of sacrificing independence was not an issue.
Craft workers considered themselves independent regardless of their wage labour status. Their ability to control the daily pace of work within their own homes placed the control of production truly in the hands of the worker.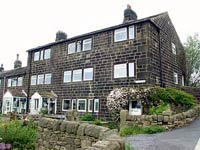 Weavers sometimes "clubbed" their resources together to build their homes and workshops.
Social mobility was a notable feature of Calderdale's textile communities at this time. Working for a wage within the domestic system provided both economic stability and security for credit which was easily extended to industrious young men judged to be sober and of good character.
Hard work and credit enabled some weavers to establish themselves as clothiers and manufacture on their own account.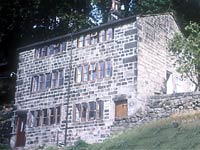 "...their journeymen being so little removed from the Degree and Condition of their Masters, are as likely to set up for themselves by their industry and frugality of a few years. Thus it is that the working people are generally moral, sober and industrious and the Goods are well made and exceedingly cheap". Josiah Tucker "Instructions for Travellers" 1758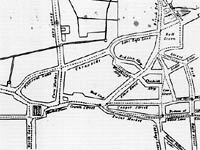 "As for the town of Halifax itself, there is nothing extraordinary except on market day, and then indeed it is a prodigious thing by reason of the multitude of people who throng thither, as well to sell their manufactures as to buy provisions; and so great is the confluences of people hither, that except Leeds and Wakefield, nothing in all the north of England can come near it". Daniel Defoe 1724
Merchants and their Factors. The growing market for cloth created opportunities for local men to enter into business.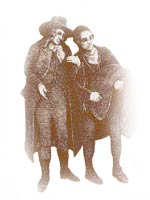 Busy merchants in Leeds, London and Holland who could not regularly attend Halifax market hired the services of reliable men to order and buy cloth on their behalf.
These agents, or "cloth factors", made a living by charging the merchant a fee for arranging the transaction. Acting as a factor could be no easy task.
To make a deal the factor would have to drive a bargain from the maximum price allowed by the merchant against the absolute minimum demanded by the clothier.