From Weaver to Web: Online visual archive of Calderdale History
Welcome to the online visual archive of Calderdale history. It gives you access to over 23,000 images, with supporting historical information.
The Calderdale area includes the towns of Halifax, Brighouse, Elland, Hebden Bridge, Sowerby Bridge and Todmorden.
From Weaver to Web provides access to a wide range of materials. These may be very useful to local and family historians interested in this area.
You will find photographs, postcards, maps, trade directories, handbills and many other types of historical sources.
Archive feature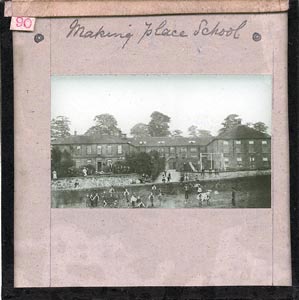 Making Place was the Soyland home of 18th century cloth merchant Samuel Hill (1677-1759). He ran his business from here from 1706 to 1759, and it was an example of early or proto-industrialisation of the wool process in the Upper Calder valley. Hill was rich and internationally famous, exporting different types of cloth throughout Europe and as far afield as St Petersburg. Phyllis Bentley's book "Manhold" is based on his life.
The house was used in the early 19th century as a 'dame school' - a private school for young children taught by women. By 1832, the building was used by William Dove and his wife for their commercial college Making Place Academy, initially with only a few pupils, but later with 200 pupils and 20 staff. Herbert Henry Asquith (born in 1852 and Liberal Prime Minister 1908-1916) was a pupil. After Dove's death in 1865, the school continued to run, but became less successful and in 1880 it finally closed.
This glass slide is from the John Bates Slide Collection held at Sowerby Bridge Public Library.
Themes