Calderdale history timeline 1500 - 1600AD
Cloth Export

By 1500 Calderdale cloth was widely exported. Merchants bought Kerseys at the Halifax market and arranged transport to the continent where there was great demand.
The Fellowship of Merchant Adventurers (see banner opposite) and the Eastland Company exported woollen cloth to Europe.
In medieval Europe no one could legally trade unless they became a member of a merchant company.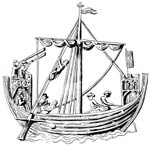 These companies organised the sailing of ships in "convoy" providing safety in numbers against attack by pirates and hostile warships. Being a member of a company offered protection whilst conducting business on the continent.
Officers of these companies acted as diplomats and safeguarded the interests of their members who resided as aliens in foreign parts whilst trading abroad. The headquarters or "court" of the Merchant Adventurers was originally in Antwerp but later settled in Hamburg.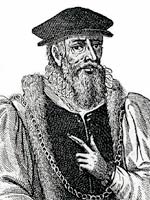 Sir Richard Saltonstall was born in Halifax. During his career as a merchant he became Lord Mayor of London in 1597. He was also a governor of the Merchant Adventurers and was frequently abroad at Hamburg as a member of various trade commissions to settle commercial disputes.
In his will he left £100 for the provision of money and bread for the poor of the Parish of Halifax.
"There is nothing so admirable in this town of Halifax as the industrie of the inhabitants who, not withstanding an unprofitable and barraine soil, have so flourished by the cloth trade that they greatly enrich their own estates and winne praise from all their neighbours". William Camden "Britannia" 1586.
During the 1500s Halifax led the way for the West Riding of Yorkshire to become England's third most prosperous woollen textile manufacturing district.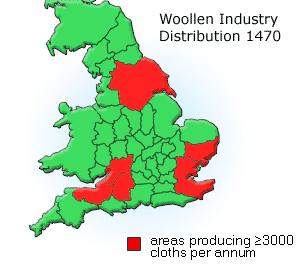 Two other regions dominated English cloth making at this time. The "West of England"; Gloucestershire, Somersetshire and Wiltshire where superfine Broadcloth was made and the East Anglian counties of Norfolk, Suffolk and Essex where the "New Draperies", high quality light weight woollens and worsteds, were produced.
"They excel the rest in policy and industrie, for the use of their trade and groundes, and after the rude and arrogant manner of their wilde country they surpass the rest in wisdom and wealth... so that the rest of the county woulde in this followe them but afar off, the force and wealth of Yorkshire would soon be doubled". James Ryders "Commendations of Yorkshire" 1588
Many visitors to Calderdale thought it remarkable that commerce on such a scale could thrive in such a remote place.
West Yorkshire was put on the map by high volume sales of Calderdale Kersey. Other Yorkshire towns also had their own recognised specialities.
"Pennistone or Forest White and the sorts made in Wackfield are Pukes, Tawneys, Browns, Blues and some Reds, in Leeds Brode Cloths of all colours ". Brother Pecks "Certificate of New Draperies" 1595
Independent clothiers with small farms were to be found all over the West Riding, but were especially concentrated in the Calderdale area where they made up the greater part of the population.
"Forasmuche as the Paryshe of Halyfaxe beying planted in the Grete Waste and Moores, where the fertilite of the gronde ys not apte to bring forthe any Corne nor Goode Grasse, only by exceedinge and greate industrye of the inhabitants. The same altogether doo lyve by cloth making. The greate part of them hathe to repair to the Towne of Halyfax and ther bye wooll upon the woolldriver, some a stone, some three or four according to thyre habilitie. And to carry the same to theire houses, some iii, iiii, v and vi myles of, upon theire Headdes and Backs and so to make and convert the same eyther into Yarne or Clothe, and to sell the same and so to bye more woolle. By means of which industrye the Gronde in those parts be nowe much inhabited and above Fyve Hundrethe householders there newly increased within theis Fourtye Years past". The "Halifax" Act, 1555
The "Halifax" Act tells us that people regularly bought their own wool and took it home to spin into yarn and weave into cloth.
This method of production is called the domestic system because people organised their own time to work in their own homes.
Living in a land "Very mounteynous, making every week a kersey and selling the same at weekend. With the money received for the same to provide both wool to make another the following week and also buy victuals to susteyne themselves and their families till another be sold".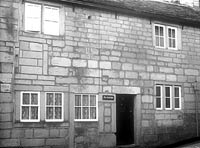 Heptonstall Cloth Hall (see image opposite) was built sometime around 1550 to take advantage of cloth woven in the upper Calder Valley and neighbouring East Lancashire.
In contrast to the wealth of southern clothiers these men of the north were noted for their frugal living and ceaseless toil which provided them "the necessities of life without its superfluities". In the language of the day they were "clothiers of the meanest sort".
Yeoman Clothiers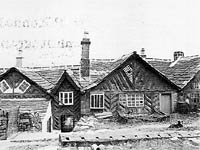 Some local clothiers prospered. They made their wealth by supplementing their farming income by regularly supplying the local market with cloth. With their riches they built substantial houses and called themselves "Yeoman", a mark of status and prestige. See image of "Sunnybank" opposite.
"To my son Brian my boith within Sancte Bartilmews in London, to be had and holden to the saide Brian and his heres and assignes for ever". Will of Henry Farrer, Clothier, Halifax, 1542.
Calderdale clothiers who had the capacity to organize the making of more than one piece a week had stalls at the annual cloth fair which was held on the eve, day and day after the feast of Saint Bartholomew, 23, 24 and 25 of August. Booths and standings were put up in the yard of the Priory Church, West Smithfield, London.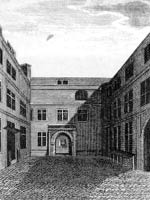 In a carnival atmosphere commissions would be taken, debts settled and contracts arranged for the coming year.
"I have in Blackwell Hall Foure score and one pieces of kerseys that Mr Grey keeps." Will of John Hollyred, Clothier, Halifax, 1574
As commerce increased, a weekly market was set up at Blackwell Hall, Bassinghall Street, at the heart of London's business quarter, see image opposite. Local clothiers delivered cloth to merchants trading there.
Halifax Houses
The number of yeoman houses in Calderdale is unrivalled in the north of England. Yeomen used the wealth they accumulated from farming and textiles to build houses that reflected their position at the top of local society.
Building began around 1500 and lasted for another 250 years. Architectural historians call their distinctive regional style "Halifax" houses.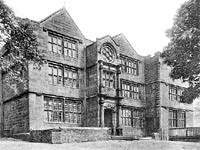 The earliest of these houses have a characteristically uniform plan with a housebody open from ground to roof and aisles providing extra width. Aisles are functional and reveal their builders source of wealth rather than their search for greater comfort. Aisles create a lower room giving additional space in a working household where a clothier might set up looms or store wool and pieces ready for market.
From the 1580s to the early 1700s local architecture was influenced by fashion. The extraordinary wealth of the district was expressed in many fine houses of spacious proportions. Built from blocks of dressed stone their recognisable features are long mullioned windows, often transomed, and circular rose windows above the doorway in double storey porches.