Calderdale history timeline 1650 - 1700AD
"A Pretty Well Built Town of Stone"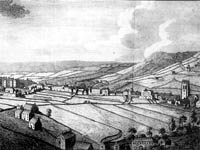 Unlike neighbouring Leeds and Bradford where repeated bombardment, capture and plague caused widespread damage and suffering, Halifax at the end of the civil war was relatively intact and began to grow into a commercial centre and busy market town.
Living and working at this time in Halifax were Drapers, Butchers, Tanners, Shoemakers, Glovers, Tailors, Innkeepers and Apothecaries alongside Doctors, Lawyers, Scriveners and Teachers. All making goods and providing services needed by the inhabitants of the valley communities of Calderdale.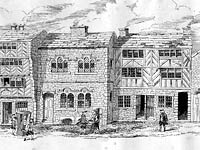 Weekly markets took place on Thursdays and Saturdays and annual fairs on the feast days of Saint John the Baptist, 24 June, and Saint Martin, November 11. See image opposite of the old market, Halifax.
The Market Charter allowed for any argument or dispute to be settled by Court of Pie Powder. The origin of these peculiar market courts is the Norman-French legal term "pied-poudre", the dusty feet of those who had travelled to the market. See image of Moot Hall.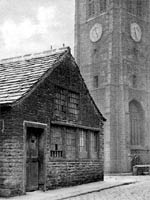 A traveller visiting the Calder valley compared it as a manufacturing district to other parts of England and noted that here there was "more men and women than any other living creatures". After 1650 the population of Calderdale grew steadily.
With more people employed in textile making occupations than anywhere else in Yorkshire cloth production increased.
In 1665 a Dutch merchant living in Halifax called Kyte regularly dispatched between 30 to 40 packs of kersey, that is 300 to 400 pieces of cloth, each week to Hull or Newcastle upon Tyne bound for Holland. After they were dyed in the Netherlands most of the cloth was sold in Turkey.