World War One newspapers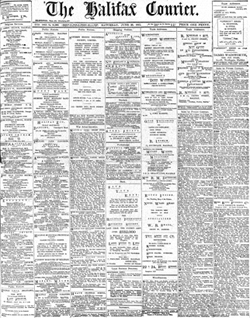 Marking the 100th anniversary of the outbreak of the WW1, we have digitised pages of the Halifax (Weekly) Courier. This is from the beginning of 1914 to the end of 1918.
During WW1, newspapers were much more important than they are today. People relied on local papers for national, regional and local news.
Some aspects of local life were the same during the War as they had been before. Adverts, news of properties for sale, notifications of church services and reports of local accidents are all there. These are often indistinguishable from those in peace-time.
War years' papers can inform about recruitment/conscription, local industry changes, war hospitals, fundraising and other support for the troops. They tell us about rationing, changes in the role of women, trade union disputes, conscientious objectors. They also tell us about the casualties of war.
Calderdale War Dead
These are listings of local soldiers who died in WW1 and WW2. They give valuable details, like dates and page references, which indicate when deaths were covered in local papers. 'HCour' means Halifax Courier and will help you find individuals in the digitised pages here.
Births, marriages and deaths 1914-1918
The birth, marriage and death columns and listings of local service personnel who died have been indexed. The PDFs give the date and page references for the Halifax Courier. These can then be used to search the digitised papers.
Note: Aggregate listings of deaths in the armed forces appear in the Courier on 7th August 1915 and 5th August 1916.
We are grateful to Calderdale Libraries' local history volunteers for the hard work they have put into creating this index.
Searching the Halifax Courier
The newspapers are available in pdf format, on the basis of one pdf per issue, for example Saturday 4th November 1914.
Note: We had no hard copies to digitise 6th February and 27th March 1915 or 5th February and 29th July 1916. These dates are missing.
The newspapers can be used in two ways - browse by date or search by keyword.
Using keyword search will return thumbnail images, which take you to one issue of the newspaper. You then need to use the internal search within the pdf, using your original search term. Where the term appears (may be more than one), it will be highlighted in blue.
Optical Character Recognition (OCR) has been used to digitise the printed text so that it can be searched electronically. Due to age and condition of the original newspapers, not all instances of a term or phrase might be found. It is still worth browsing issues of the newspaper for dates relevant to your search.