Calderdale history timeline 1400 - 1500AD
The First Mills
Fulling is a process unique to making woollen cloth. It is essential as it thickens the woven cloth making it strong and fit for use.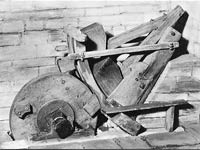 Copious amounts of soft water were used in the making and finishing of woollen cloth and to power waterwheels that drove the hammers of fulling stocks. The fulling mill was the first use of waterwheels for industrial purposes other than for the grinding of corn.
In Calderdale fulling mills were built in the valleys near to bridges where trackways from hillside villages crossed rivers By the late 1290's a fulling mill, one of the first in the county, had been built where the paths from Sowerby and Warley crossed the rivers Calder and Ryeburn.
The village, which grew up around the mill, became Sowerby Bridge. Other hillside settlements had fulling mills close by which became separate villages. The fulling mill close to Heptonstall became Hebden Bridge, and the fulling mill near Rastrick became Brighouse.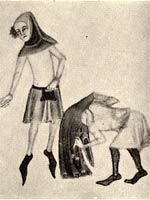 "At Halifax there is no cloth made but yearde brode carsies"
Calderdale weavers specialized in making a kind of cloth called Kersey or "Carsey". They chose to make Kersey because there was always a ready demand for them. It was not too expensive and had a reputation for being hardwearing, weatherproof and good value. It was used to make garments for everyday use like coats and jackets.
Originally each "piece" or length of woven cloth was 1 yard wide by a "streit" 12 yards long.
Making Kersey had a number of advantages. Preparing the yarn provided work for all the family and a weaver could make a piece on a loom at home in about a week, leaving enough spare time for some farming.
"A Canny Lot"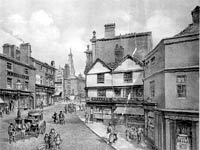 Though Kersey's were not the highest quality cloth locally grown wool was too coarse for the yarn needed to weave them.
A trade emerged with local wools sold on to areas making stouter, rougher cloths and Calderdale weavers buying the wool they needed from dealers in Halifax. Woolshops in the town centre, where this trade took place, survives as a unique street name to this day.
By 1475 the Calderdale region had become the largest producer of Kersey cloth in England. At this time the volume of woollen cloth sold at the Halifax market was five times more than cloth sold in Leeds and eight times that of cloth sold at Bradford.
As trade developed stalls put up to sell cloth close to the Parish Church were moved near to the market cross. Later a cloth hall was built at Hall End. This tells us that the buying and selling of cloth had become an important part of the local economy. On market day cloth merchants were regular visitors to Halifax and local clothiers who "put cloth to making and sale" were spending money they had earned to buy wool and food.
The Parish Church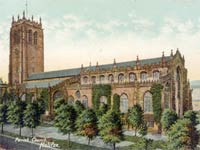 The Parish Church in Halifax was rebuilt and enlarged between 1437 and 1480 is a permanent symbol of the regions early prosperity.
"Without doubt one of the largest and most impressive of the late medieval churches in the county"