Calderdale history timeline 1100 - 1400AD
Calderdale along with Bradford, Kirklees, Leeds and Wakefield is one of the five metropolitan districts of West Yorkshire.
Flowing from high Pennine moorland the River Calder and its tributaries create a rugged landscape. For many thousands of years people have made their homes along the course of the rivers.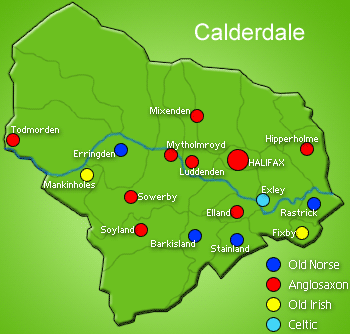 After the Romans left Britain people from other countries settled here. Placenames tell us where they lived and which language they spoke. Here a few examples.
Most names were derived from literal meanings; here are a few examples and their origins:
Calder as in the river - 'swift stream' Celtic.
Exley - 'church field' Celtic.
Fixby - 'Feck's farmstead' Old Irish.
Rastrick - 'Resting place' Old Norse.
Stainland - 'stoney land' Old Norse.
Elland - 'land by the river' Anglosaxon.
Todmorden - 'Totta's boundary valley' Anglosaxon.
Halifax - 'coarse grass amongst rocks' Anglosaxon.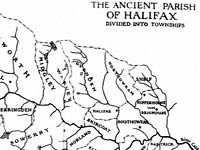 After the Battle of Hastings in 1066 William the Conqueror rewarded his victorious Knights by giving them estates and manors. These estates were made up of townships (see map opposite). Most of the townships within present day Calderdale were once within the territory of the Manor of Wakefield and the ancient parish of Halifax. The Earl of Warrene was the first lord of the manor of Wakefield.
The Warren coat-of-arms has the simplicity of the earliest designs, the shield being divided into squares alternately coloured gold and blue or in heraldic terms 'or' and 'azure'. This chequered shield formed the basis of the former Halifax civic coat-of-arms when it was designed for the institution of the borough and was included in the revised version brought out to mark the centenary of the borough in 1948.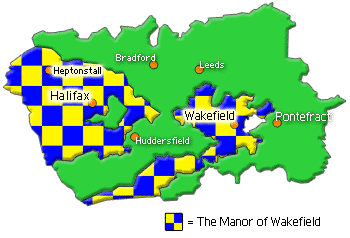 Although much of the Calderdale area was woodland and windswept moor medieval estate managers encouraged people to move onto the land. A cluster of distinctive placenames show us where people came to live, they settled here sometime between 1100 and the 1340's.
Tonstall's were cattle rearing farms or "vaccaries" set up sometime between 1100 and 1200. Tonstall is a familiar English placename, here in the Pennines it is joined by old English words, which describe the farm.
HEPTONSTALL - Dog Rose Farmstead
RAWTONSTALL - Roughland Farmstead
SALTONSTALL - Willow Farmstead
SHACKLETONSTALL – either Farmstead on tongue-shaped land or Farmstead where animals could be tied up
CRUTTONSTALL - Crooked Land Farmstead.
Royds
Small areas of land were cleared by farming families from forest and moorland. These clearings were often enclosed with a hedge. The legal name for this was "assarting", but in the local dialect cleared land was called a "royd" (derived from the Old English "rod").
There are several royd place-names in the Calder valley. Combined with other words they tell us something about their particular location. Here are a few examples:
HANGINGROYD - Clearing on a steep slope
KEBROYD - Old Sheep Clearing
MYTHOLMROYD - Clearing where the rivers meet.
The number of royds cleared declined after the Black Death of 1348 devastated local communities.
The western part of the manor of Wakefield did not have a large administrative centre like a monastery or a castle. With no resident nobility local society was largely made up of peasants who rented farms.
Even though a growing population had worked hard to make wasteland useful most local farms remained small. After the death of a tenant farmer it was common practice by customary law to share out the land amongst all eligible heirs. Over time the dividing up of farms stretched meagre agricultural resources. With not enough land to support everyone in full time farming people had to think of other ways to make a living.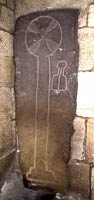 To make extra income many families combined farming with the weaving of woollen cloth for sale at the local market.
Making a living by a mix of agriculture and textiles is known as a dual economy.
This grave cover in the porch of the Parish Church dates from around 1150. It depicts shears that would have been used to cut or "crop" a neat and even surface on woollen cloth. It is early evidence that skilled textile craftsmen lived in medieval Halifax.
The earliest textile workers have left a legacy of their trades in local surnames like WALKER a fuller, LISTER a dyer, and WEBSTER a weaver.
At the dye house, Northbridge in Halifax, lived BATE (Bartholomew) the LISTER and ROBERT LISTER. Near by at the fulling mill lived GEPPE (Geoffrey) the WALKER and his son NELLE (Nigel) the WALKER. Nelle was succeeded by his son ROBERT NELLSON.
"Robert and John of Copley, sons of John Copley, indicted with John, son of Robert of Tong, for slaying John Bateson, son of Bartholomew the Lister of Halifax at Woodkirk in the Wednesday before the feast of St. Peter-ad-vinculum. COURT OF ASSIZE, YORK 1337