Calderdale history timeline 1900 - 2000AD
Towards the Present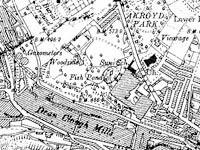 By 1900, much of the landscape that we know in Calderdale today, had been formed. In Halifax, later building works added to and changed the late Victorian townscape. This did not really alter the urban plan that had grown between 1750 and 1900. The 'conurbation' had spread to cover most of the ancient township and nearby areas. Its population had risen to over 100,000.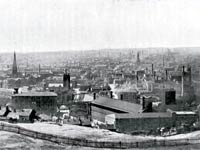 Since 1750 Halifax has undergone a dramatic transformation. It has changed from a pre-industrial market town at the heart of a domestic woollen manufacturing district. It is now a major urban centre engaged in a diverse range of factory-based activities. The social, cultural, commercial and municipal dimensions of this industrial revolution got their most striking visual expression in the rich and varied architecture and rapidly changing topography of the late Victorian mill town.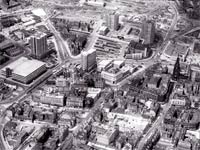 The physical shape and layout of the area can be seen largely as the product of commercial and industrial activity which had lost its momentum before the first world war. In spite of the survival of red-brick housing estates (1930s), slum clearance and urban renewal programmes (1950s), high-rise flats and supermarkets (1960s) and fly-over / motorway construction (1970s).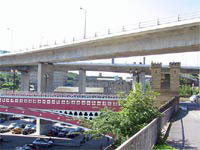 Although machine tools, quarrying, confectionery manufacturing and other enterprises had extended Calderdale's commercial and industrial base. The 20th century was a time of relative stagnation and decline. This often left ugly scars on the landscape: derelict empty buildings, drab and unimaginative new developments and pockets of depressing urban wasteland once occupied by architecturally striking edifices.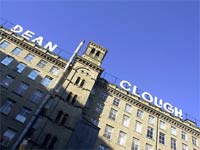 Since the 1980s, there have been signs of real attempts to stop the decline and decay. This is by combining and linking efforts to revitalize the local economy with efforts to improve the quality of the local environment. Through situating both of these objectives, where appropriate, within the framework of a heightened awareness of Calderdale's built and natural landscape heritage. Many of the distinctive elements of change and continuity within the areas rich industrial and architectural legacy have survived intact. They have attracted the attention of increasing numbers of cultural heritage groups and recreational planners. They saw the need for at least some of Calderdale's future commitments to be more rigorously geared to the active conservation and effective exploitation of its past.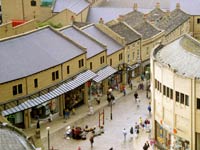 The creation of conservation areas, stone-cleaning, canal restoration, the rehabilitation of redundant buildings, and new environmentally sympathetic human-scale planning mark the first tentative steps towards the formulation of a radical and coherent strategy for change and regeneration which views economic, environmental and community interests as mutually interdependent.
For a strategy like this to be a success and kept up with, it needs to be bold and imaginative. It will need to draw heavily on the values of self-help and co-operation. This made such a vital contribution to positive change in Calderdale in the past. It also made such a dramatic impact on the local landscape over the centuries.