Education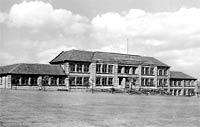 Until the passing of the Education Act of 1870 opportunities for learning were few in Calderdale, as elsewhere. The churches provided some education in their schools, but only a minority of children could avail themselves of it and lessons covered only the essentials. For the few who could afford to pay a small fee there were the dame schools where a pupil at least learned to read and write and a smattering of arithmetic. National Schools and Lancastrian Schools also helped to fill the need for education and several were available in Calderdale, one being above Cross Hills in Halifax.
For children who had lost their parents there were some orphanages where they would receive an education, and there were charity schools. In Halifax there was the Crossley Orphanage, founded in 1864, which provided a good education for the children who were lucky enough to be admitted, and the Blue Coat School on Harrison Road, provided by the Waterhouse Charity.
In some cases schools were provided free of charge by mill owners for the children of their employees. Such schools were run by Colonel Edward Akroyd (1810-87) at his mills in Haley Hill and Copley, Halifax. These were a prime example of the paternalistic attitude shown by some of the more enlightened and philanthropic employers in the Victorian Era.
For the well-to-do education was available to their sons at the local grammar school. Heath Grammar School, Halifax, was instituted in 1585 by Royal Charter and with the strong backing of Dr John Favour (1556-1623) and throughout its chequered history educated generations of local boys with the conventional strong bias towards the classics.
The establishment of Board Schools after the implementation of the 1870 Act was the first milestone in the movement towards education for all. There were still to be many local children who were 'half-timers' and went to school for half the day while working in a mill for the other half, but eventually full-time education became available to every child and for the first time it seemed that almost any career was possible to a child who was prepared to work hard and showed promise. It was to be a long time, however, before this ideal became a reality and the day was to come when not only primary and secondary education was available to all, but also a university education.