The Piece Hall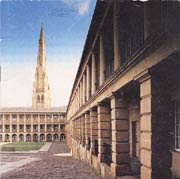 A centre of the cloth trade Halifax had a Cloth Hall and a Linen Hall for many years and businessmen who came to Halifax to sell or buy cloth had long been in the habit of lodging at certain inns, but in 1779 the fine new Piece Hall was built at the expense of local clothiers on land provided by the Caygill family. The design of the building, by Thomas Bradley, has always been striking with its vast expanse of courtyard surrounded on all four sides by over 300 small rooms which were used for the sale of woollen pieces, and gateways on three sides, north, south and west. The rooms are on three levels on the eastern side which, due to the slope of the ground taper away to two levels towards the west. The bottom gallery is known as the 'Arcade,' the one above is the 'Rustic' and the top one is the 'Colonnade.'
Although the Piece Hall was constructed solely for the sale of cloth the need for it declined as the changes of the Industrial Revolution took effect and the coming of rail transport was largely instrumental in causing the centre of the woollen trade to move from Halifax to Bradford. The premises now became principally used as a wholesale market for the sale of fruit and vegetables, while various public events also took place there. In 1861 a tightrope cable was stretched from a corner to the one diagonally opposite and the world famous 'Great Blondin,' who had recently crossed the Niagara Falls on a cable, carried out his act to the excitement of the crowd below.
A series of 'Sings' was held every five years from 1838 to 1890 by massed Sunday School scholars, an event which was to be long remembered by many of them. The classes came from all over Calderdale to sing hymns in the Piece Hall and enjoy refreshments during the intervals.
The Piece Hall was restored at considerable expense and reopened in 1976 after which it took on a new lease of life with market stalls in the courtyard and shops using the rooms on the galleries. Special events such as vintage car exhibitions are arranged in the open air and a stage is available in the centre for musical and dramatic performances, while a Tourist Information Centre is at hand to answer enquiries.