Turnpike Roads in Calderdale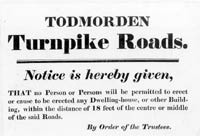 In early times the roads and tracks around Calderdale were rough indeed. There were the early cattle trails leading from the north and the packhorse tracks which were used by clothiers bringing their cloth pieces into Halifax for sale. These tracks had been in existence from the Middle Ages and the most used was the Magna Via, a rough track, partly metalled, which wound round the brow of Beacon Hill and dropped steeply into Halifax by way of the Parish Church. This was the old route from Wakefield which had been used from time immemorial. Some of the old roads into Calderdale followed the original routes chosen by the Romans in the 4th and 5th centuries.
By the late 18th century the new turnpike roads were coming into existence, roads which were wider and better made than the earlier tracks and made communication with other towns easier. There were still problems, however, the new roads were often badly affected by adverse weather conditions and could become so muddy as to be impassable at times. Moreover, the increased cost of maintenance had to be borne by the local authority.
Toll bars were set up with a man to attend to the gate at all hours of the day or night, and a list of toll charges was displayed - a cost which added to the traveller's expense and to the tradesman's problems.