John Mackintosh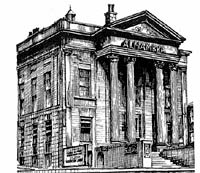 The big toffee and chocolate manufacturing firm, John Mackintosh and Son Ltd, which exports its delectable produce to countries in all parts of the world, began in a simple way when the young John Mackintosh and his wife Violet made the difficult decision to invest their hard-earned savings in a shop. They opened their premises in King Cross Lane and eventually decided to make their own toffee for sale. This proved to be so popular that the business grew beyond all their expectations and the day came when John was able to open his own factory for the manufacture of toffee on a large scale. This was followed by a foray into the field of chocolate making that was equally successful, and from then on the business continued to expand and to increase its profits.
Eventually John's son, Harold Vincent, took over the running of the business with great success. In 1957 he was created Viscount Mackintosh for his work in promoting National Savings during World War 2. The firm was so well known that during the war William Joyce, known to the British as Lord Haw-Haw, referred to Halifax as a certain toffee town.
The firm eventually became Rowntree-Mackintosh, before being taken over by Nestlé.