Colonel Edward Akroyd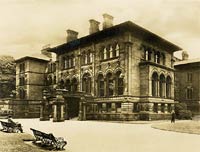 Edward Akroyd (1810-1887) carried on the textile business which had begun with his father and he, himself, established mills at Haley Hill in Halifax and then at Copley, two miles or so to the south-west. He proved to be a very successful businessman and his firm made him very prosperous. At Haley Hill, not far from his mills, he built a large mansion, Bankfield, in an Italianate style, and he went to live there with a large number of servants to run the house and the extensive grounds, and to tend the horses in the commodious stables which were built nearby.
Akroyd was typical of the rich Victorian businessman who felt it his Christian duty to care for his fellow man. He was a true philanthropist who spent thousands of pounds for the good of his workpeople, and his plan for building workers' houses at Akroydon and Copley was a scheme which was far ahead of his time. At his own expense he built All Souls Church in 1859 at a cost of £100,000 and another church, St Stephen's, which stands on the far side of the River Calder at Copley on ground which was just over the boundary of the Skircoat Parish. Akroyd, who was Whig Member of Parliament for Huddersfield, lost his seat, but in 1865 was returned as MP for Halifax, continuing until he retired in 1874.
Akroyd's kindness was well-known and many had cause to be grateful to him and felt his problems as keenly as their own when some of his overseas investments failed and he suffered great financial loss. The unkindest cut of fate, however, was when he fell from his horse and received severe head injuries. After this his failing health caused him to leave Halifax for a secluded life at St Leonards attended by only one manservant and it was there that he died in 1887.