Canals in Calderdale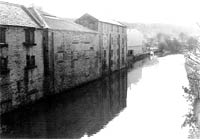 In 1757 a survey was carried out by John Smeaton with a view to constructing a system of navigable waterways in Halifax Parish. As a result canals were built to link up with others in the West Riding and the Calder and Hebble and Rochdale Canals were used to convey much of the freight which had previously been transported by the unsatisfactory roads, particularly heavy materials.
The waterway ran via Todmorden, through Hebden Bridge and Sowerby Bridge to Halifax, and from there it carried on to Brighouse and ultimately to Wakefield. In 1825 a further branch was cut which ran from Salterhebble Basin up to Bailey Hall, close to where the Mackintosh toffee factory was later to be built. This spur of the navigation, which proved invaluable for transport from mills and factories in the central district of Halifax, came to an end during World War 2 and the remainder of the canals gradually fell into disuse. It was not until the 1980s that a move was made to restore some of the old waterways, more with a view to promoting leisure activities than transport as the interest in boat travel and canoeing increased.