The Crossley Family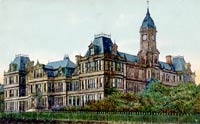 Three brothers, John, Joseph and Frank Crossley took over the Dean Clough carpet mills after the death of their father, John Crossley, and spent many busy years building up the business until it was a huge concern, employing some 4,000 workers in its heyday and sending large quantities of carpets overseas as well as across the length and breadth of Britain.
Each of the brothers saw to a different aspect of the business and they employed a talented designer and inventor, George Collier, who spent some years on research and trials before finally producing his new power loom for weaving carpets which was to revolutionise carpet manufacture. It was largely the patent rights accruing from this invention, which was owned by the Crossleys, which earned the family's great income.
Frank Crossley, now a very wealthy man, built a mansion, Belle Vue, on the outskirts of Halifax, and his brothers took up residence in equally splendid houses, John at Manor Heath and Joseph at Broomfield, these two standing to the south of Halifax. Sir Francis received his baronetage in 1863 and he became a Liberal Member of Parliament for Halifax in 1852.
After an enjoyable visit to the USA Sir Francis decided to build a public park in Halifax, landscaped to give it some of the beauty which he had seen in America, and People's Park was opened in 1857 for the pleasure of the townspeople. It was designed by the famous Sir Joseph Paxton, who planned the Crystal Palace, and it stood within a stone's throw of Belle Vue itself.
The Crossleys were of a similar breed to Edward Akroyd, bluff, hard-working Yorkshiremen who held firmly to their Christian faith and felt a strong desire to ease the lot of their less fortunate townspeople. In addition to People's Park Sir Francis built a row of almshouses on the verge of his own estate and Joseph built his own almshouses with a central block and two long wings, encompassing pleasant railed grounds on Arden Road. In the town of Halifax the Crossleys built new offices and shops near the new Town Hall (1863), a street which came to be named Crossley Street.