Halifax Theatres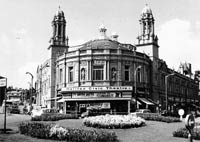 The oldest theatre in Halifax was the Theatre Royal which was built in 1790 and destroyed by a fire in 1904 after which it was rebuilt. In later years it was to become a cinema and café and then a bingo hall before being converted into a nightclub.
The timber-built Gaiety Theatre stood at the end of North Bridge, Halifax, until it was destroyed by fire, the last performance being in 1888. The site was later used for building the Grand Theatre which was designed by Frank Matcham and opened in 1889 by the famous actor Wilson Barrett. For many years it was a popular repertory theatre and during World War 2 was used as a cinema, reverting to live drama afterwards. In 1957 it was demolished after part of the ceiling fell down in spite of attempts to preserve it which were helped by Eric Portman who brought his whole London company to Halifax to appear at the Grand.
The Victoria Theatre in Halifax was opened in 1901 under the name of the Victoria Hall. It was built on a prime site at the end of Commercial Street where its fine architecture can be seen at its best. Since it was built it has been used for live theatre, featuring a variety of artists, singers, orchestras, variety acts and drama. During World War 2 it was used as both a cinema and a dance hall and it has long been used to stage amateur theatricals by talented local singers and actors. In 1963, under the ownership of Halifax Council, it underwent a complete overhaul and its splendid interior was shown to best advantage after redecorating. It was then renamed the Civic Theatre, partly to give it a new look and partly because its former name conflicted with the main hall of Halifax Town Hall, which was also known as the Victoria Hall. This name was used until 1993 when it was decided that the name should once more reflect the time of its construction and it was renamed the Victoria Theatre.
The Palace Theatre and Hippodrome in Halifax was referred to as the 'sweetest theatre in the north' as a result of the methods used in building it when, during bitterly cold weather, quantities of sugar were mixed with the mortar to prevent it from freezing. It was built in 1903 and was a popular place of entertainment for many years featuring many of the best-known artists of the time, including stars such as Arthur Askey, Henry Hall and his orchestra, Sandy Powell, Reginald Dixon and many others. In 1959 it was finally closed and demolished to make room for new offices and shops.
The Oddfellows Hall opened in Halifax in 1840 and was used as a theatre and public hall. In its heyday it saw appearances by many celebrities including Charles Dickens, who gave highly acclaimed readings from his novels, but had a poor opinion of the town itself. It later became known as the Trades Club due to the meetings held there, and in 1917 a cinema was installed known as the Alhambra which ran until 1959. The building was demolished in 1963.
A music hall known as the Mitre was a popular venue for light entertainment of this nature. It was run on the usual lines of a Victorian music hall where the singing and dancing were accompanied by bar facilities. It was situated in Market Street in Halifax.