Railways in Calderdale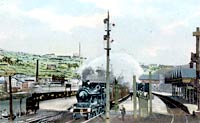 The Manchester and Leeds Railway, which came to be built through the Calder Valley in 1841, ran through Todmorden, Hebden Bridge and Sowerby Bridge, but did not extend to Halifax. For a time Halifax travellers by the new railway system had to make their way to Sowerby Bridge to catch the train, and rail freight, similarly, had to be conveyed there. It was not until 1844 that a branch line was finally constructed to link up with Halifax at Shaw Syke. This was later extended to North Bridge and on towards Ovenden, continuing from there to Queensbury. This was the Halifax North and South Junction Railway.
This wonderful new rail system, bringing such benefits to industry by speeding up the transport of freight came too late! While Halifax was in limbo, and when later developments left the town on a branch instead of on the main line, supremacy in the woollen trade passed from Halifax to Bradford, which was in a much better situation for fast trade in the new age of railways.
An interesting branch leading from Holmfield, near Ovenden, ran across the Wheatley Valley on a stoutly constructed viaduct and carried on to St Paul's Station at Queens Road. This was the High Level Railway, a branch which was very useful in its day, particularly for the transportation of coal, but which gradually fell into disuse. The last goods train ran in 1960 and the line was then dismantled.
A new branch line was planned which was to go from the main line near Shaw Syke towards the west, crossing the land now occupied by Halifax Town Football Club and continuing via a tunnel under the Huddersfield Road, then curving round across Well Head to link up with Queens Road Station. This line never materialised, although the tunnel was actually constructed and remains there today. During World War II this was used as a Civil Defence store.