Source material: Newspapers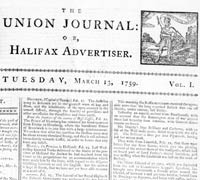 The local newspaper is one of the most valuable primary printed sources available to the local historian for the reconstruction of community life over the last two and a half centuries. Newspapers are available for the Halifax area, with gaps, from the mid 18th century onwards. During the earlier period, local news coverage tends to be a minor feature of each issue and is most in evidence in the advertisements and notices, often to be found on the front page. Here will be found references to public meetings, sales of houses and land etc. During the 19th century, however, local news figures more prominently, and from the 1830s a detailed picture of almost every aspect of local life begins to emerge. In many instances, the newspaper report can amplify and explain the concise formal record, providing information on the background and conflicts surrounding particular events.
Format
Local newspapers have survived in a variety of formats. Most of them are preserved in annual bound volumes, but made available for consultation via microfilm copies to reduce the wear and tear on the originals. Since the late 19th century, collections of news cuttings have been maintained by individuals and institutions, in the early years mounted in scrapbooks, but more recently filed loose in envelopes and arranged alphabetically by person, place and subject.
Use
As might be expected, newspapers are often biased in the way events and issues are reported, and geared to the prejudices of a readership which does not begin to represent the population as a whole until the early 20th century. This is particularly the case when political matters are at stake. We are fortunate, therefore, in having two or more newspapers available for specific periods, each with its own political slant, and it is an interesting exercise to take certain issues and look at the various ways these issues are treated in the local press during a particular period.
Value
One of the main pitfalls of local studies in many spheres is that the researcher can very easily lose sight of the regional, national and sometimes international context of local events and issues. One of the great advantages of newspapers is that the local can be less easily divorced from the general context. During the 19th century, due largely to the process of industrial-urbanisation, society underwent important changes in its quality of life - changes which affected public health, transport, culture and leisure, housing and education. Much of this is reflected in the local press in a way that enables the local historian to relate local change to the more general developments which were taking place in society as a whole.