Source material: Census abstracts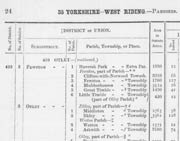 Census abstracts are summaries of of official census returns which have been taken every ten years since 1801 (except in 1941). They provide details of demographic (or population) trends within specific localities and whole regions.
Layout
The census aimed to establish :
The size and distribution of the population.
The number of houses inhabited and empty.
The occupational structure of each county.
The age structure, civil condition, place of birth etc., of the population.
It should be noted, however, that census abstracts are concerned with numbers rather than names, and for details of specific individuals the census returns should be consulted. It should also be remembered that the abstracts are broken down into registration districts and sub-districts. Calderdale itself is made up of the Halifax and Todmorden registration districts, the sub-districts often breaking down into ancient civil township divisions.
Use and limitations
Census abstracts are of tremendous value to the population historian, though it should be noted that:
Registration districts and sub-districts may not coincide with the area of a specific community.
Boundary changes during the 19th century make an analysis of population change over an extended period of time difficult to undertake (though footnotes and marginal notes sometimes help to clarify the nature of change).
Some of the detailed analysis is not localised enough to be useful for research on specific communities.
Early census tables are occasionally inaccurate, though the margin of error is usually not significant enough to invalidate general conclusions and, as a source, the census provides the most accurate demographic information we possess.