Source material: Council minutes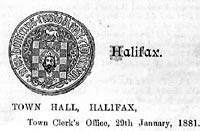 The early form of township government progressed from the authority of the Lord of the Manor to that of local officials. The Township's Officers appointed by the parochial authority were the Churchwardens, the Constables, the Surveyors of Highways and the Overseers of the Poor. The Justices of the Peace occupied an important position, often working with the Townships Officers.
By the mid-eighteenth century the power of the Lord of the Manor had declined and new authorities evolved with bodies of Trustees which dealt with the administration. In 1837 the Overseers of Halifax received the warrant of the Poor Law Commissioners for the formation of the Halifax Union which consisted of nineteen townships.
These changes were largely the result of the tremendous growth of Halifax during the first half of the nineteenth century. The records of the Halifax Town Trustees covered the period from the Improvement Act of 1823 to the incorporation of the borough in 1848 when a Town Council was elected by the ratepayers.
Halifax Borough Council Minutes are extant from 1848 until 1973 after which the Calderdale Metropolitan Borough Council took over with minutes dating from 1973 to date.
In other areas of Calderdale the Local Authorities which changed in name over a period of time and from from boards to councils included:
Barkisland Local Board
Barkisland UDC
Brighouse Borough
Elland Local Board
Elland UDC
Greetland UDC
Halifax RDC
Hebden Bridge Local Board
Hebden Bridge Parish Council
Hebden Bridge UDC
Hebden Royd Parish Council
Hebden Royd Town Council
Hebden Royd UDC
Hepton RDC
Heptonstall Parish Council
Hipperholme Local Board
Hipperholme UDC
Luddenden Foot Local Board
Luddenden Foot UDC
Midgley Local Board
Midgley UDC
Mytholmroyd Local Board
Mytholmroyd UDC
Norland Local Board
Norland Parish Council
Northowram Local Board
Northowram UDC
Ovenden Local Board
Queensbury and Shelf UDC
Rastrick Local Board
Ripponden UDC
Rishworth Local Board
Shelf Local Board
Shelf UDC
Skircoat Parish Council
Southowram Local Board
Southowram UDC
Sowerby Local Board
Sowerby UDC
Sowerby Bridge Local Board
Sowerby Bridge UDC
Soyland UDC
Stainland UDC
Todmorden Local Board
Todmorden Rural Sanitary Authority
Todmorden RDC
Todmorden UDC
Todmorden Borough
Wadsworth Local Board
Warley Local Board
Warley UDC