Source material: Directories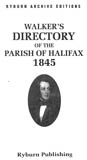 Local directories of 'principal inhabitants' (as they were called), tradesmen and craftsmen, give useful information regarding the social and economic fabric of a given community from the late 18th century onwards, and for the 19th century they are available at increasingly frequent intervals. They are essentially products of the Industrial Revolution and originated as guides to potential customers, distributors and suppliers.
Layout
Directories often cover whole counties or districts, but are usually broken down into individual towns and villages. Information of 2 distinct types tends to be given:
Historical: this includes brief topographical surveys of specific localities, with particular attention given to churches, charitable trusts and schools.
Commercial: this may consist of:

an alphabetical list of prominent local inhabitants, especially those in business (with addresses and occupations).
a classified list of trades and occupations in the community.
details of local carriers, coaches and postal services.
a list of local officials.
Use and reliability
Used in combination, directories indicate how local towns and villages evolved and plot the rise and fall of specific trades and industries. Care is needed, of course, as these sources are often incomplete and sometimes omit substantial tradesmen. Information is, moreover, sometimes inaccurate and out of date. Nevertheless directories offer a fascinating insight into the social and commercial life of a community and often yield information in a form that cannot be easily acquired from other sources.