Source material: Electoral registers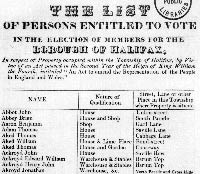 Electoral registers (or burgess rolls) list all those local inhabitants who were eligible to vote in local and Parliamentary elections. They represent an important source for the local historian and often throw up information not available elsewhere.
History
Before 1832 the group of people listed in electoral registers was very small and was limited to men with freehold property worth at least 40 shillings per annum. In 1832 the franchise was extended to include copyholders of £10, and leaseholders of £50. The Reform Acts of 1867 and 1884 widened the franchise even further, and these extensions are reflected in the progressive increase in the number of names recorded in the registers.
Arrangement
The registers are preserved in the Local Studies Collection from 1832 onwards. These are to be found at Halifax Central Library, West Yorkshire. They are arranged in the main by ward and then by street or person. In the early registers, the entry for each voter gives the abode, the nature of the qualification (eg freehold mill) and the situation of the qualifying property.
Use and limitations
Electoral registers can be helpful in a number of ways, eg:
In ascertaining building dates of houses and streets.
In determining an individual's period of residence in a specific property or locality.
The main limitations are:
The exclusion of individuals not eligible to vote.
The frequent non-alphabetical arrangement of names and the absence of persons and street indexes.