Source material: Gazetteers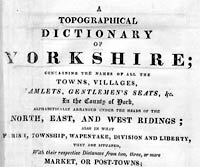 A gazetteer is a geographical dictionary which provides a varying amount of descriptive, geographical or statistical information, making it a useful primary source when studying the history and geography of a particular area.
One which covered Halifax was Martin, Benjamin. 'The natural history of England' (1763). In the title the words natural history would, perhaps, be better replaced by topography. This is arranged county by county with a description of each. Yorkshire is divided into Ridings and by town. A brief description of Halifax includes its location and trade.
E. Hargrove's 'The Yorkshire gazetteer' (1806) covers the towns, villages, hamlets, mountains and rivers of the county, and Thomas Langdale's 'A topographical dictionary of Yorkshire' (1822) lists towns, villages, and country seats, and includes distances between major towns, Market Days, fairs, bankers, inns, churches and population figures. A brief history is given of each place, with notes on eminent men of the town and a list of printed historical accounts.