Source material: Maps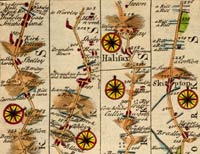 Printed maps and plans are extremely important for the study of the physical growth of towns and villages, and no detailed work on settlement, the development of industry, etc. is really possible without reference to these sources, which for the Calderdale area go back to the late 16th century, at a small-scale county level, and back to the mid-18th century, on a more localised and larger scale. When used in together, they give us a graphic bird's-eye view of a continuously evolving local urban and rural landscape.
County maps
Early county maps date from the late 16th century onwards, and include maps by Christopher Saxton (1577), John Speed (1610) and Thomas Jefferys (1775). Although they are important documents, the scale of these maps is such that they are of little value for detailed local research.
Local maps
The first local map in print is of the town Halifax, is dated 1759 and is to be found in John Watson's history of Halifax, which was published in 1775. The next map covers the whole township and was published in 1797. During the first half of the 19th century there are several maps of Halifax available for the local historian, and some of these are accompanied by terriers or field books which list owners of specific plots of land at key points in time. The earliest map of the whole of the ancient parish of Halifax (roughly equivalent to the area of Calderdale) is dated 1834/5.
Ordnance survey
The earliest detailed maps of the whole Calderdale area are the circa 1850 Ordnance Survey plans on a scale of 6 inches to the mile. For the central business district of the town of Halifax an even more detailed plan is available for the same period, showing specific features of building layout and even pinpointing shrubs and trees in gardens. From the 1890s there are plans on scales of 6 inches and 25 inches to the mile, and this pattern continues into the 20th century.