Source material: Parliamentary papers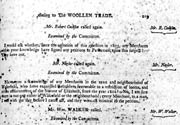 Surveys of various kinds were carried out at a national, regional and local level in connection with Royal Commissions which were set up on an increasing scale during the 19th century to investigate specific problems. These surveys form part of an enormous collection of Parliamentary Papers which have accumulated over the years, and which provide detailed information on a multitude of topics of interest to the local historian.
Availability
A small selection of the more locally relevant Commissions are available in the Local Studies Collection, perhaps the most significant one being the 1842 Children's Employment Commission, which gives details of the working conditions of children in local mines at this time.
Form
In most Commissions, the record of each investigation is excessively detailed, and indeed often verbatim. In many cases it is as though a courtroom drama is being enacted, and the graphic detail makes both fascinating and moving reading.
Limitations
As with other 19th-century sources, the researcher should be on the look out for discrepancies and possible misprints, as Commissions were often printed in haste. The wealth of local data is often inaccessible, moreover, due to the sheer mass of information contained within the surveys, which were often regional or national in character.
Conclusion
Despite their limitations, Parliamentary Papers remain one of the most important guides to a whole range of controversial areas of 19th-century history.