Page 1 of 1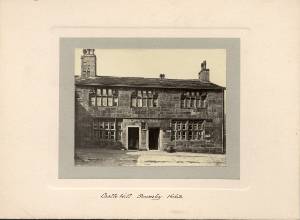 © 'Digital image copyright Calderdale Libraries'
Castle Hill Farm, Sowerby
Castle Hill Farm, Sowerby. 1662
Author: H.P.Kendall
Date: not dated
Location: Sowerby
Format: Photograph - Mono
Document ID: 102251
Library ID:
This photograph was amongst those taken of old halls and homesteads from across the Parish of Halifax in 1937 by local photographer and antiquarian Hugh Percy Kendall.

The following is from Calderdale Council's Listed Buildings descriptions:

House, now 2 dwellings. Dated "INEN 1662". Coursed squared stone, stone slate roof. 2 storeys, 3 bays with wing to rear left. Chamfered plinth, double-chamfered mullion windows. C20 half-glazed door to right of centre in original doorway with cyma-moulded surround and ogee-shaped head with date panel on lintel. To left a board door in plain stone surround with block above lintel having inverted shield with chevrons. Restored 5-light window to bay one and 6-light window to bay 2 (partly restored), both with transoms. Continuous dripmould with lozenge stop to left and heart stop to right. 1st floor: each bay has a 3-over-5-light window with decorative-stopped hoodmould. End stacks. Rear: main range: C20 door in plain stone surround to left of 3-light window on each floor. Pent porch in angle with wing has 2-light flat faced mullion window and small light above. Wing has quoins, kneelers, ashlar coping, end stack and, in left return, a 5-light ground-floor window and 2-light window above. Left return: cross-window under dripmould on left with 2-light window above. Left return: in gable of main range a rafter and the ends of the purlins are inside. Wing has a 5-light window to each floor, the lower one with round-headed lights. Interior: No. 54, on left: front room has a large segmental-arched fireplace with stepped arris and skewbacks, and 2 stop-chamfered spine-beams; rear room has a large, quoined, segmental-arched fireplace with skewbacks, stop-chamfered spine-beams, joists, wall plate in right wall, on 1st floor a king-post truss between bays and 2 with mortices in soffit of the beam for studs from former partition wall; another truss between main range and wing, probably with king-post, with part of an angle strut visible. No. 52: triangular-headed fireplace with voussoirs, stepped surround and chamfered cornice.

In Graptolite's historical notes on the Church at Sowerby, he writes The site of an old fort or castle at the head of the village has been thought to be Roman, though it is not known when it was built or destroyed. On its site Castle Farm is yet standing.