Page 1 of 4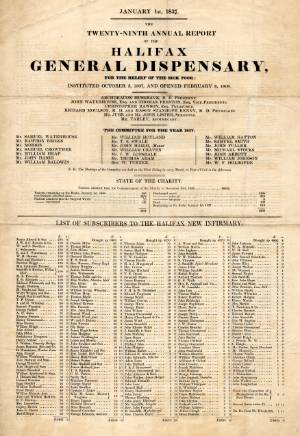 © Digital image copyright Calderdale Libraries
29th Annual Report of the Halifax General Dispensary, 1837
29th annual report of the Halifax General Dispensary for the relief of the sick poor.
Author: Unknown
Date: January 1837
Location: Halifax
Format: Report
Document ID: 102226
Library ID:
The Halifax General Dispensary was opened in 1808 to provide medical assistance to the poor, and was the institution which eventually became the Calderdale Royal Hospital. It was originally located in the vicinity of today's Dispensary Walk, before moving to Causey Head and later, in 1838, to Blackwall, in Harrison Road.

Funds were raised by subscription, collections, bequests and charity events, such as concerts. This document gives a list of committee members, subscribers, donations and collections as of 1837, with procedures and an accounts summary for 1836.