Page 1 of 1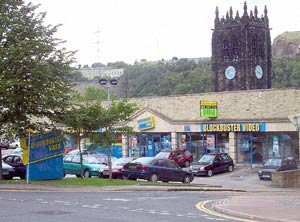 © Calderdale MBC
Blockbuster Video
View of Blockbuster Video, with the Parish Church visible in the background.
Author: Matthew Smith
Date: 16 August 1988
Location: Halifax
Format: Photograph - Colour
Document ID: 102110
Library ID:
Situated to the east of the town centre and south of the Parish Church. In the late 19th and early 20th century Duffy's Park stood around this area. Housing used by Irish immigrant mill workers.
The predominate mill in this part of Halifax was Riding Carpets, with Mackintosh confectionaries to the south.
Halifax Parish Church is believed to stem back to Saxon times, but the first recorded church on this site was in 1120. Monks from the Cluny Priory of Lewis in Sussex were given the Halifax portion of the Manor of Wakefield by the second Earl of Warrenne, some time between 1106 and 1121. The Norman Church was situated to the north and was much smaller than the present one; this can still be seen in part today, as the north wall of the present church is built incorporating the south wall from the original, and Norman inscriptions can still be seen today.
The present building was erected in the mid-15th century, by the bequest of Vicar John King. The building work started in 1438 and was overlooked by Vicar Thomas Wilkinson. The Rokeby Chapel and Holdsworth Chapel were added in the sixteenth century.
The Snetzler organ was installed in 1764 at a cost of £1,200. The bell tower was added in 1459. Presently there are ten bells, eight of which were installed in 1787, with the other two added later in 1814. The chimes were installed in 1804. The bells were recast in 1951 and re-hung in 1993.
The original clock was moved to The Castle, and in 1774 Thomas Lister replaced it. The library was established in the crypt by Robert Clay in 1438. The books are now on loan to York University.
The woollen industry can be traced as far back as 1150, as gravestones of this age depict a pair of shears.
In 1879 Sir Gilbert Scott and John Oldrid Scott carried out extensive restoration work. In 1997 a two million pound scheme was proposed to restore the church.