Page 1 of 8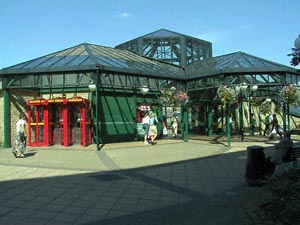 © Calderdale MBC
Bus Station, Halifax
Series of photographs showing the new Bus Station in Halifax.
Author: Matthew Smith
Date: 16 August 2002
Location: Halifax
Format: Photograph - Colour
Document ID: 102109
Library ID:
Halifax's first bus station was built in the mid 1940s at Ward's End, opposite the Victoria Theatre. The bus station then moved to Cross Fields in August 1954.
When the Sion Congregational Chapel was demolished the present bus station was built on this site, incorporating parts of the existing building.
The former Regal Cinema Building now stands where the original bus station was. And the benefits office stands where the second bus station stood.
Sion Congregational Chapel was an Independent chapel built in 1819, with seats for over 1000 and a schoolroom in the basement. New school buildings were added in 1846 and 1866. David Livingstone gave a sermon and a lecture here in 1857. In 1959, the chapel and the school closed. The building was dismantled in 1984 and rebuilt with the facade included in the new Halifax Bus Station.
The present bus station opened in 1989 by Euro MP Dr. Barry Seal, at a cost of £2 million and won an award as one of the North's best modern buildings.