Page 1 of 40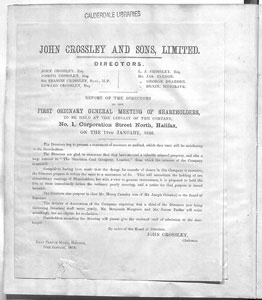 © Calderdale MBC
Annual Reports
Annual report for John Crossley & Son Carpets, Halifax.
Author: Unknown
Date: 1885
Location: Halifax
Format: Report
Document ID: 101865
Library ID: 33961625
Dean Clough Mills stemmed from a small building standing by the Hebble Brook which John Crossley began to use in 1803. From this small beginning grew the tremendous undertaking which was to employ up to 5,000 operatives and covered an enormous area, a firm which as John Crossley & Sons Ltd was to conduct trade on a world wide basis, selling high quality carpets.
The closure of the firm, which was announced in 1982 came as a tremendous shock and was a clear indication of the local demise of the textile trade. This was not to be the end of Dean Clough Mills, however, for the next few years were to see sections of the mill complex used for a variety of small industries, and for commercial use as offices and for banking. The entrepreneurial skills of Sir Ernest Hall finally made the buildings into a thriving home for around 150 businesses with nearly 2,000 work people and included an art gallery and facilities for exhibitions, meetings and theatrical productions.