Page 1 of 1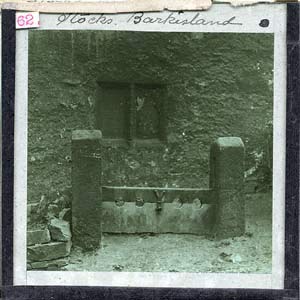 © Calderdale MBC
Stocks Barkisland
View of the stocks at Barkisland, West Yorkshire.
Author: Unknown
Date: not dated
Location: Barkisland
Format: Glass Slide
Document ID: 101800
Library ID: 62
The stocks are situated on Stainland Road in Barkisland. This form of public humiliation was used to restrain and expose people convicted of misdemeanours; they would be locked into the stocks and would then be subject to the insults and missiles of passing folk.
The stocks are still standing [2003] and are a Grade II Listed Building. The following is from Calderdale Council's listed building description:
Stocks To Front 76 Stainland Road, Barkisland, Halifax, West Yorkshire. Stocks, probably 18th century. 2 dressed stone uprights with slots in the sides for stone slab, lower keeper and wooden upper with metal strap pinion.
The glass slide is from the John Bates Slide Collection held at Sowerby Bridge Public Library.