Page 1 of 1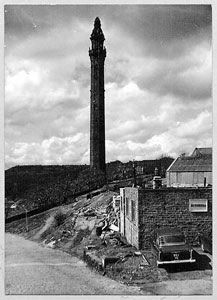 © Halifax Photographic Society
Photograph - Mono (Document ID: 101617)
View of Wainhouse Tower, King Cross, Halifax, West Yorkshire.
Author: Unknown
Date: 1971
Location: King Cross
Format: Photograph - Mono
Document ID: 101617
Library ID: 078240
Built by John Edward Wainhouse (1817-1883) in 1871. Wainhouse inherited the Washer Lane Dye Works together with a large fortune. After the Smoke Abatement Act of 1870, legislation meant that smoke had to be taken out of the valley. Admiring the work of R. H. Watt of Knutsford, Cheshire, Wainhouse decided to build a tall chimney also. In 1871 plans were drawn up by the architect Isaac Booth for a chimney to carry the smoke from the factory by pipeline. In 1874 Wainhouse sold the works to his manager, who refused to pay the costs to finishing the chimney.
Wainhouse decided to keep the tower for himself and convert it into 'a general astronomical and physical observatory'. Completed in 1875 by architect Richard Swarbrick Dugdale at a total cost of £14,000, Wainhouse Tower stands 275 feet high with the top decorated in a neo-renaissance style.
Wainhouse Tower is linked with the owner and his feud with neighbour Sir Harry Edwards, Industrialist, Freeman and Justice of the Peace. Arguments started from one small incident in 1873, and after Edwards misused his position as the Justice of the Peace, things went from bad to worse and Wainhouse became afflicted.
It has been suggested that Wainhouse built the tower to keep an eye on his neighbour's activities, so Wainhouse may have kept the structure to antagonize his neighbour.
W.E. Dennison [1866-1926], Chairman of Halifax Courier Limited, ran an amateur radio station - known as 2KD - from Wainhouse Tower, sometime between 1912 and 1919. Around this time, it was also used as an ARP observation post.
Still standing 2003.