Page 1 of 2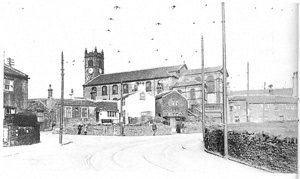 © Digital image copyright Calderdale Libraries
Calderdale, Then and Now - Illingworth
Photograph of Illingworth, Halifax, West Yorkshire from 1930.
Author: Edward Riley
Date: 1980
Location: Illingworth
Format: Book Illustration
Document ID: 101263
Library ID: 28803147
The picture shows St Mary's church at Raw Lane and the tram system that was in place in 1930. The Talbot Inn (the white gable end in front of the church) was built in 1777, possibly as a vicarage, and became an inn in 1840. Major structural alterations took place in the 1930s to make it into the larger building it is today.
Taken from a book by Edward Riley and photographer Ian D Swift in 1980, "Calderdale Then And Now", which compared old photographs with contemporary pictures of the same scene.
For other related pages of Riley's 1980 "Calderdale Then And Now", see documents: