Page 1 of 1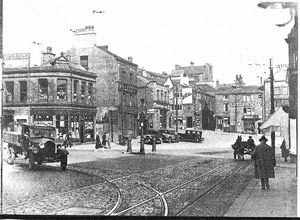 © Digital image copyright Calderdale Libraries
Calderdale, Then and Now - Cow Green
Photograph of Cow Green, Halifax, West Yorkshire from the 1930s.
Author: Edward Riley
Date: 1980
Location: Halifax
Format: Book Illustration
Document ID: 101262
Library ID: 28803147
The picture shows Cow Green before the multi-storey car park, flats and road-widening scheme of 1971. Until 1858, the area was used as a livestock market.
Taken from a book by Edward Riley and photographer Ian D Swift in 1980, "Calderdale Then And Now", which compared old photographs with contemporary pictures of the same scene.
For other related pages of Riley's 1980 "Calderdale Then And Now", see documents: