Page 1 of 1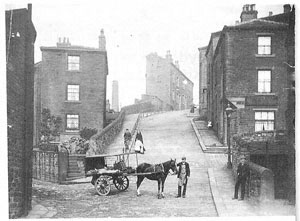 © Digital image copyright Calderdale Libraries
Calderdale, Then and Now - Spion Cop
Early 20th century[?] photograph of Lower Clifton Street, Sowerby Bridge, West Yorkshire.
Author: Edward Riley
Date: 1980
Location: Sowerby Bridge
Format: Book Illustration
Document ID: 101261
Library ID: 28803147
Lower Clifton Street, also known locally as t'Delph and Spion Cop (after a battle in the South African or Boer Wars), is a steep street with a 1:3.7 gradient. The buildings on the right of the picture are now demolished, as is Brearley's Mill whose chimney can be seen between the houses, but the other houses are still standing [2003].
Taken from a book by Edward Riley and photographer Ian D Swift in 1980, "Calderdale Then And Now", which compared old photographs with contemporary pictures of the same scene.
For other related pages of Riley's 1980 "Calderdale Then And Now", see documents: