Page 1 of 2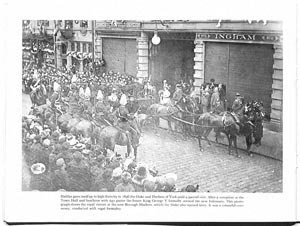 © Hendon Publishing Co Ltd.
1896 Royal Visit to Halifax, Charabanc Trip, and Sunnyvale Amusement Park
Old photographs taken from "Halifax As It Was."
Author: Arthur Porritt
Date: 1973
Location: Halifax
Format: Book Illustration
Document ID: 101255
Library ID: 34767437
p1: The Duke and Duchess of York visiting the Borough Market in 1896. The Duke later became King George V.
p2: The first photograph is of a three horse charabanc. In pre-war days, John Marsh & Co ran omnibus services to Ripponden and other outlying districts. The service ceased around 1912, when the tramways routes were extended and the Corporation bus service was introduced.
The second picture on p2 is of Sunny Vale Pleasure Gardens, which opened on the 1st of May 1880 at Hipperholme. The owner Joseph Bunce had originally bought the land to create a market garden. The attraction included a miniature railway, two boating lakes, a skating rink, swings and a maze, all within a 40-acre park. Situated near Hipperholme Railway Station, the location was ideal, attracting upwards of 100,000 people at its height. The site was eventually run down, and in the 1960s and 1970s was used for speedway and stock car racing. Very little now remains of the park.
For other related pages of Arthur Porritt's 1973 "Halifax As It Was", see documents: