Page 1 of 23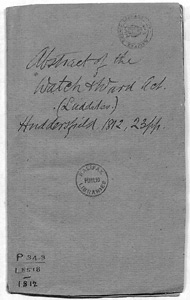 © Calderdale MBC
Abstract of the Watch and Ward Act (Luddites), 1812
An Abstract of the Watch and Ward Act.
Author: Great Britain Statutes
Date: 1812
Location: National
Format: Act
Document ID: 101091
Library ID: L8518 P343
"An Act for the more effectual Preservation of the Peace, by enforcing the Duties of Watching and Warding, until the First Day of March 1814, in Places where Disturbances prevail or are apprehended." Printed in Huddersfield 1812.
This act is in response to the machine-wrecking riots and acts of violence and murder by the Luddites, especially the attacks on Joseph Foster's mill at Horbury, Wakefield and the Rawfold Mill in Liversedge, both of which occurred in April 1812, as well as disruptions in other parts of the country.