Page 1 of 2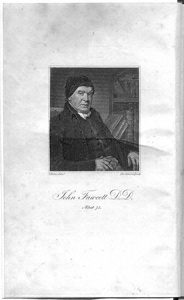 © Calderdale MBC
Account of the Life, Ministry & Writings of the late Rev John Fawcett
Frontispiece and title page of biography of Rev. John Fawcett.
Author: John Fawcett
Date: 1818
Location: Hebden Bridge
Format: Biography
Document ID: 100978
Library ID: 28129252
2 pages from "Account of the Life, Ministry & Writings of the late Rev. John Fawcett, D. D. who was Minister of the Gospel Fifty-Four Years, First at Wainsgate, and Afterwards at Hebden Bridge, in the Parish of Halifax; Comprehending Many Particulars Relative to the Revival and Progress of Religion in Yorkshire and Lancashire; and illustrated by Copious Extracts from the Diary of the Deceased, from his Extensive Correspondence, and other Documents." 1818.
p1: Frontispiece illustration "John Fawcett D. D., etat 75".
p2: Title page.
Dr John Fawcett (1740-1817) was born in Bradford. He was minister at Wainsgate Baptist Church, Wadsworth, and then minister of the Hope Baptists in 1764.
In 1769, he co-founded the Heptonstall Book Society. In 1772, he was invited to move to a church in London, but after an outcry by his local congregation, he stayed at Wainsgate, Old Town, for the rest of his life. This incident inspired him to write the hymn "Blest Be the Tie That Binds Our Heart in Christian Love".
In 1777, he built a new Meeting House for the growing population in the valley - the Ebenezer Baptist Church with a capacity of 500 people - and remained as minister there until his death. He established an academy for training Particular Baptist ministers; this was at Brearley Hall from 1776, at Ewood Hall from 1786, until it merged with the new Horton Academy in 1804. The missionary, Ward, and the Baptist minister and essayist, John Foster, were among those who studied at Fawcett's establishments. He built Machpelah House, Hebden Bridge, in 1805 and also owned Peel House, Warley.
He wrote and published many books and essays. In 1811, he published his "Devotional Commentary on the Holy Scriptures".
He was the father of the Rev Richard Fawcett.