Page 1 of 1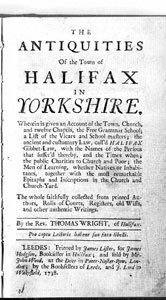 © Calderdale MBC
Antiquities Of the Town of Halifax in Yorkshire
Title page of an early 18th century account of Halifax, West Yorkshire.
Author: Rev. Thomas Wright
Date: 1738
Location: Halifax
Format: Historical Account
Document ID: 100948
Library ID: 27967449
"The Antiquities Of the Town of Halifax in Yorkshire, Wherein is given an Account of the Town, Church, and twelve Chapels, the Free Grammar School; a List of the Vicars and School masters;; the ancient and customary Law, call'd HALIFAX Gibbet-Law, with the Names of the Persons that suffer'd thereby, and the Times when; the public Charities to Church and Poor; the Men of Learning, whether Natives or Inhabitants, together with the most remarkable Epitaphs and Inscriptions in the Church and the Church-Yard. The whole faithfully collected from printed Authors, Rolls of Courts, Registers, old Wills, and other authentic Writings."
As well as being an antiquarian, the Reverend Thomas Wright was Curate of Halifax and Ripponden.


For title page and picture of Taylor's residence from Wright's memoirs see document 100982. For an extract see document 101514