Page 1 of 44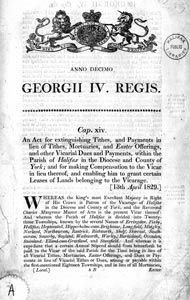 © Calderdale MBC
Act for Extinguishing Tithes, 1829
Act of Parliament for changing church payments and tithes in Halifax parish.
Author: Great Britain Statutes
Date: 13 April 1829
Location: Halifax
Format: Act
Document ID: 100935
Library ID: 28168665
"An Act for Extinguishing Tithes, and Payments in lieu of Tithes, Mortuaries, and Easter Offerings, and other Vicarial Dues and Payments, within the Parish of Halifax in the Diocese and County of York; and for making Compensation to the Vicar in lieu thereof, and enabling him to grant certain Leases of Lands belonging to the Vicarage." Passed in the 10th year of the reign of George IV [1829].