Page 1 of 18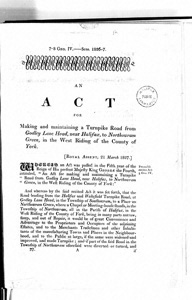 © Calderdale MBC
Act of Parliament, 1827
Act for Turnpike Road from Halifax to Northowram, West Yorkshire.
Author: Great Britain Statutes
Date: 21 March 1827
Location: Halifax
Format: Act
Document ID: 100930
Library ID: 28164680
" An Act for making and maintaining a Turnpike Road from Godley Lane Head, near Halifax, to Northowram Green, in the West Riding of the County of York." Passed by George IV in March 1827.