Page 1 of 19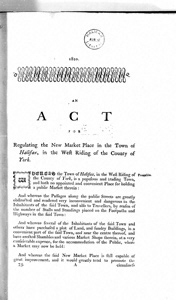 © Calderdale MBC
Act of Parliament, 1810
Act for regulating a new market place in Halifax, West Yorkshire.
Author: Great Britain Statutes
Date: 1810
Location: Halifax
Format: Act
Document ID: 100927
Library ID: 28136583
"An Act for Regulating the New Market Place in the Town of Halifax, in the West Riding of the County Of York." Passed in 1810.