Page 1 of 2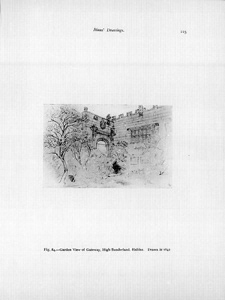 © Calderdale MBC
Binns' Drawings: High Sunderland
Drawings by Thomas Binns of High Sunderland, Halifax, West Yorkshire.
Author: Thomas Binns
Date: 1842
Location: Halifax
Format: Drawing
Document ID: 100858
Library ID: 14313753
Drawings by Thomas Binns, local artist of the 19th century who published a popular set of "Reproductions of Pencil Drawings" in 1841-1846, much reproduced thereafter.
p1: "Garden View of Gateway, High Sunderland, Halifax. Drawn in 1842."
p2: "Front Porch, High Sunderland, Halifax. Drawing undated."
"May the Almighty grant that the race of Sunderland may quietly inhabit this seat, and maintain the rights of their ancestors free from strife, until an ant drink up the waters of the sea, and a tortoise walk round the whole world." So read the inscription above the front window of one of the most impressive homesteads in the local area. Its name was High Sunderland and it stood on a plateau at Horley Green, overlooking the Shibden Valley.
In John Crabtree's "History of Halifax", the author states that the house was built by Richard Sunderland about 1587,although there are suggestions that his son Abraham was responsible for the house being constructed in 1629. There can be no doubt, however, that this gabled, timber-framed house, with its ornate carvings, was a sight to behold.
The front of the property was very imposing, with its decorative mullioned windows and high gateway depicting the coats of arms of the Sunderland and Rishworth families. It is thought that the name derives from the fact that the land was sundered or divided from lands surrounding it, with the "high" referring to its elevated position.
Bronte experts have conceded that Lockwood's description of his first visit to Wuthering Heights fits that of High Sunderland. The inscriptions are fictional but the carvings are real. The interior of "Wuthering Heights" also corresponds with the house plan to a great extent.
Emily Bronte would have been familiar with High Sunderland, having spent some time at Law Hill School in Southowram. It is thought she used the house as "Wuthering Heights" but located it at Top Withens on Haworth Moor.
Over the years the house was divided into separate dwellings and occupied by several different families. By the late 1940s it was reported that the building was derelict and unsafe. The owner of the building at that time, a Mrs Holden of Harrogate, offered it first to Halifax Corporation and then to the Bronte Society. However, the high cost of repair meant that both offers were turned down. High Sunderland was finally demolished in the early 1950s. Some of the stonework and sculptures are in the possession of Shibden Hall Museum.
Further information on High Sunderland can be found in the Halifax Antiquarian Society Transactions for 1907 and the Calderdale Archives Department.
Pages taken from "The Yorkshire Coiners 1767-1783. And Notes on Old and Prehistoric Halifax" by H. Ling Roth, Honorary Curator of Bankfield Museum, Halifax. Published in Halifax in 1906 by F. King & Sons, Ltd.