Page 1 of 2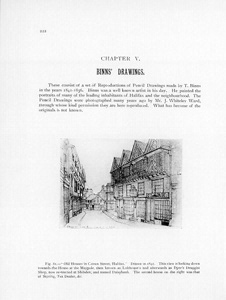 © Calderdale MBC
Binns' Drawings: Crown Street and Northgate, Halifax
Two drawings by Thomas Binns of Crown Street and Northgate, Halifax, West Yorkshire.
Author: Thomas Binns
Date: 1842
Location: Halifax
Format: Drawing
Document ID: 100856
Library ID: 14313753
Drawings by Thomas Binns, local artist of the 19th century who published a popular set of "Reproductions of Pencil Drawings" in 1841-1846, much reproduced thereafter.
p1: " 'Old Houses in Crown Street.' Drawn in 1842. This view is looking down towards the House at the Maypole, then known as Lofthouse's and later as Dyer's Druggist Shop, now re-erected at Shibden Park, and named Daisybank. The second house on the right was that of Styring, Tea Dealer, &c."
p2: "View looking into Northgate from Top of Woolshops, Halifax. Drawn in 1842. The high square building was occupied by Mr. Bray, as a grocers shop."
Pages taken from "The Yorkshire Coiners 1767-1783. And Notes on Old and Prehistoric Halifax" by H. Ling Roth, Honorary Curator of Bankfield Museum, Halifax. Published in Halifax in 1906 by F. King & Sons, Ltd.