Page 1 of 1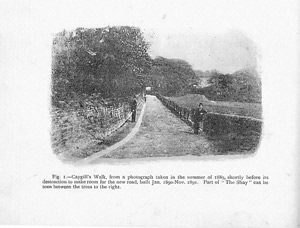 © Digital image copyright Calderdale Libraries
Caygill's Walk
Photo of Caygill's Walk, nr. Skircoat Road, Halifax, West Yorkshire in 1889.
Author: H. Ling Roth
Date: 1906
Location: Halifax
Format: Book Illustration
Document ID: 100830
Library ID: 14313753
Caygill's Walk, from a photograph taken in the summer of 1889, shortly before its destruction to make room for the new road [Skircoat Road?], built Jan. 1890 - Nov. 1891. Part of "The Shay" can be seen between the trees to the right.
Taken from "The Yorkshire Coiners 1767-1783. And Notes on Old and Prehistoric Halifax" by H. Ling Roth, Honorary Curator of Bankfield Museum, Halifax. Published in Halifax in 1906 by F. King & Sons, Ltd.