Page 1 of 1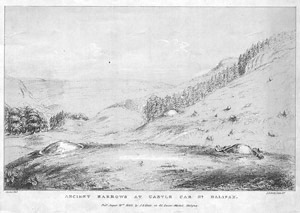 © Calderdale MBC
Ancient Barrows at Castle Car Nr Halifax
Lithograph of archaeological earthworks at Castle Carr, Wainstalls, nr Halifax, West Yorkshire.
Author: Carter
Date: 21 August 1842
Location: Wainstalls
Format: Print
Document ID: 100470
Library ID: 35499155
Lithograph of burial mounds at Castle Carr, Wainstalls.
This seems to be the only reference to these possibly Bronze Age barrows in existence. No other contemporary references exist in local papers or accounts. The picture shows a number of mounds dispersed over the valley bottom, features which seem to have been all but destroyed when the Upper and Lower Dean Head reservoirs were constructed. Local archaeologist, Michael R Haigh, noticed the possible existence of a cairn circle at the southern edge of the second reservoir in 1981[*].
From the print: "Carter, Del. [Latin - Delineavit, he drew it]. J.S. Stott, Lith, Hx. Pubd. August 22nd 1842, by J.S. Stott, at 41, Swine Market, Halifax."
[* 'Aspects of Calderdale' ed. J Billingsley, Wharncliffe Books 2002]