Page 1 of 1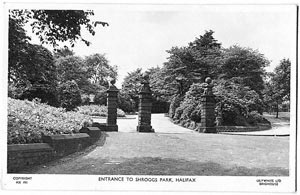 © Larkfield Group Limited
Entrance to Shroggs Park, Halifax
Photograph of the entrance to Shroggs Park, near Halifax, West Yorkshire.
Author: Unknown
Date: not dated
Location: Halifax
Format: Postcard - Mono
Document ID: 100331
Library ID: 34561471
The name Shroggs derives from "bushy scrubs", a description of the land before it was transformed into a park by Edward Akroyd. Edward Milner, who also designed People's Park, designed the park, and William Swinden Barber designed the houses at the entrance.
Situated to the west of Halifax, Shroggs Park covers 24 acres. Still standing 2003.